Nutritional Counseling
If you ever heard the saying, "You are what you eat" and was completely baffled by this statement, we are here to help you understand! Nutritional counseling at Bloomfield Total Health Center was founded on the concept that a healthy, nutritious and well balanced meal can not only assist with our dietary needs but our overall health and well-being.
The benefits of nutritional counseling are limitless and has proven to be effective in positively changing one's life and those of their family and friends. Some such benefits are an increase in energy/life expectancy, reduced symptoms of diseases, strengthening of the immune system, reduced stress/anxiety/frustration, loss of weight and improved sleep quality and concentration.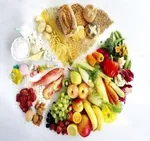 In our multidisciplinary practice the benefits for our chiropractic, physical therapy and acupuncture patients are endless. As the body improves with proper nutrition and weight loss our patients begin to feel the overall positive effect of a well balanced physical structure and ultimately an improved mind body connection.
Nutritional counseling can assist patients in understanding the connection between the foods they eat, the amount of exercise they do and how those two concepts affect the body's ability to protect and heal itself. In addition, it can help patient's understand how a well balanced diet, active lifestyle, nutritional/daily supplements and improved mobility and function can help prevent a wide variety of health conditions/illnesses/disease such as diabetes, digestive/eating disorders, sports/musculoskeletal injuries, pre-post partum nutritional difficulties, menopause, osteoporosis, allergies, obesity, organ problems and immunodeficiency's.


Ellen Levine Maulbeck, our board certified registered dietitian nutritionist can help you eat healthy, live long and stay strong because what you eat today will determine your tomorrow.
If you are interested in learning more, please contact our office at (973) 338-3620 to schedule a virtual one on one nutritional counseling session